Christmas Greetings and Holiday Office Closures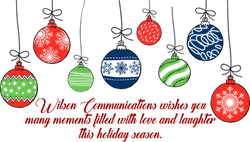 Wilson Communications hopes your Christmas season is filled with wonderful moments and we wish you a safe and Happy New Year! 

As you plan your activities, please take note of our office's holiday schedule.  The business office will close at 3pm on Thursday, December 23rd and will be closed Friday, December 24th. We will also be closing at 3pm on Thursday, December 30th and will be closed Friday, December 31st. We will reopen for regular business on Monday, January 3, 2022.

For the last several years, in lieu of traditional Christmas cards, Wilson Communications has chosen to donate the expense involved to an organization or charity and we are proud to donate this year's expense to the Jason Foundation.

The Jason Foundation, Inc. (JFI) is dedicated to the prevention of the "Silent Epidemic" of youth suicide through educational and awareness programs that equip young people, educators/youth workers and parents with the tools and resources to help identify and assist at-risk youth. JFI believes that awareness and education are the first steps to prevention and we are honored to be able to support their worthwhile cause. Click here to learn more.