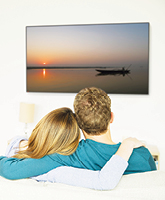 Did you get a new TV for Christmas? The following are a few simple tips and tricks to optimize the picture and sound of your new investment. And yes, this advice works to spice up your older home theater setup, too.

Update your box, cables. The first step to getting a good picture is to make sure your main TV source is at least a high-definition receiver and use an HDMI cable to handle your audio and video connection. If you prefer to get your content online with services such as Amazon Prime Video, Apple TV+, Disney+, Hulu or Netflix, make sure you have a fast internet connection for smooth streaming.


TV Display Settings. A tip to vastly improve the picture quality of your television is to turn up the contrast almost to full and reduce the brightness to below half. This little-known trick makes blacks blacker and colors richer. It also gets rid of the washed-out look some entry-level TVs have.

Another approach, especially if you watch a lot of TV during the day and have a lot of light coming through the windows that you can't control, is to pump up the brightness on your TV a great deal. Sometimes new TVs are set to deliver high brightness by default, which is how the big box stores tend to have them, but you can tweak this easily in the television's settings.


Disabling the "soap opera" effect. One more thing you might want to change is often referred to as the soap-opera effect. The soap-opera effect is really called "motion smoothing" or "motion interpolation," designed to decrease motion blur and make movements seem smoother and more lifelike. Your new TV might see low frame-rate source material and try to fill in the gaps between frames with additional ones the TV generates, to help smooth out fast motion. If you're not a fan, enter the Settings menu on your television to turn off the feature or at least adjust its intensity.


Where to sit. How far to sit from your TV boils down to personal preference, but a general rule for an HDTV is 1.5 to 2.5 times the diagonal screen size. With a 60-inch TV you can sit 7 1/2 to 12 1/2 feet from the screen. But the high pixel density of the newer 4K Ultra HD TVs means you can sit up to 30 percent closer than you can to an HDTV.