Wilson Communications Wraps Up Its 2022 Customer Appreciation Luncheons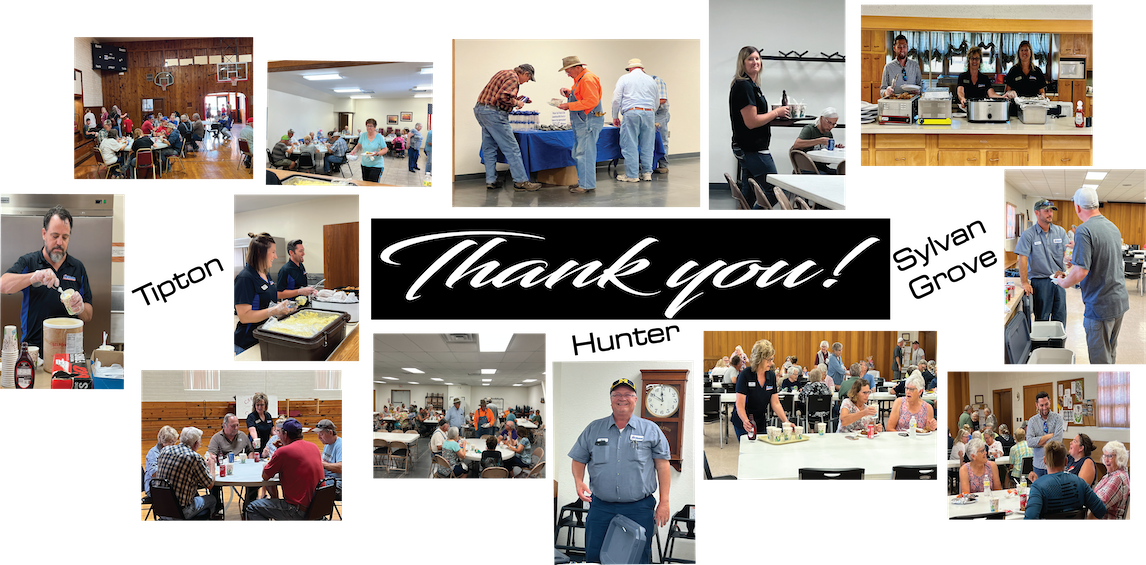 Over the last two months Wilson Communications was out in our communities hosting the 2022 Customer Appreciation Luncheons. It was standing room only in Tipton, where we welcomed a record breaking 145 hungry customers. We saw another 78 customers in Hunter and in Sylvan Grove 97 customers joined us for the popular menu of 2-piece Fried Chicken or Bierock, Potato Salad, Chips and Ice Cream. And, of course, all got to walk away with new Wilson Communications swag items!

Thank you to everyone who was able to attend and for being our customers! Wilson Communications sends a special thank you to the Hunter Cafe, Tipton Grocery, Fly Boy's Brewery and Grandma's Soda Shop for helping to make these events possible.

This year, winners of the raffle drawing won Tech Gadget Gift Baskets which included a Roku Express HD Streaming Stick and other handy gadgets.

Congratulations to the following winners:

⭐ Tipton – Tracey Palen
⭐ Hunter – Gary & Dixie Sloggett
⭐ Sylvan Grove – Tyler Gier

Next year, Wilson Communications will be hosting the Customer Appreciation Events in Lucas, Brookville and Wilson.

2022 FRS Community Grant



The Foundation for Rural Service (FRS) was established in 1994 in cooperation with NTCA – The Rural Broadband Association to sustain and enhance the quality of life throughout rural America by advancing an understanding of rural telecommunications. As part of its ongoing commitment to rural communities across the country, FRS offers aid for communities served by NTCA members through its annual Community Grants Program. These grants are designed to provide support to a variety of local efforts to build and sustain a high quality of life in rural America.

The grants support a variety of projects concentrated in the four major categories listed below. You may also visit the FRS website at this link to see examples of previous awarded projects, many of them in Kansas!

Business and Economic Development – Devise a plan to turn your community into a global phenomenon by growing small or existing businesses, developing new ones and implementing a job creation program that attracts key talent from your community or from skilled individuals interested in relocating to small town America.


Community Development – Develop an outreach program that helps to promote advancing technology skills of your community members, incorporates innovation into learning, raises the visibility of your community's talent and artistry, and places your town on everyone's bucket list as the place to visit.


Education – Support advances in education by helping your schools get technology (computers, smart boards, etc.) in the classroom, build resources for curriculum development, strengthen extracurricular activities and programs, and promote distance learning programs.


Telecommunications Applications – Show how you plan to turn your community into a technological powerhouse by promoting the implementation and use of broadband-enabled applications for telehealth, education, government services, safety and security, and efficient energy distribution and use.
Completed applications must be returned no later than August 15, 2022. We will then forward all applications directly to FRS on the applicant's behalf. Applications received after this date will not be accepted. If you should have any questions, feel free to contact our office at 658-2111 or (800) 432-7607 or by email to kayla.cullens@wilsoncom.net.