Today, we are connected to our smartphones or a computer wherever we go; because of that, our world is becoming increasingly dependent on cybersecurity. Wilson Communications is proud to be a part of the national Cybersecurity Awareness Month to help us all understand the latest ways to protect our customers and our friends and families online.

Cybersecurity is the art of protecting networks, devices, and data from unlawful access or criminal use, and providing confidentiality, integrity, and availability of information. Much of your personal information is stored either on your computer, smartphone, or tablet. Knowing how to protect your information is important, not just for individuals but for organizations, as well. Every time you use the internet, you face choices related to your security. Your security and the security of the nation depends on making responsible online decisions. Making the internet safe and secure requires all of us to take responsibility for our own cybersecurity behavior.

You can greatly increase your cybersecurity online, at work and at home by taking a few simple steps:

Think Before You Click: Recognize and Report Phishing: If a link looks a little off, think before you click. It could be an attempt to get sensitive information or install malware.


Update Your Software: Don't delay — if you see a software update notification, act promptly. Better yet, turn on automatic updates.


Use Strong Passwords: Use passwords that are long, unique, and randomly generated. Use password managers to generate and remember different, complex passwords for each of your accounts. A password manager will encrypt passwords securing them for you!


Enable Multi-Factor Authentication: You need more than a password to protect your online accounts, and enabling MFA makes you significantly less likely to get hacked.
The Cybersecurity and Infrastructure Security Agency (CISA) is making it possible for you to learn about cyber basics as well as advanced cybersecurity issues. At CISA's Cybersecurity Awareness Month website, there is basic information, classes, and even live events happening throughout October.

In the end, the security we place around our organization is only as strong as you. We encourage you to visit the CISA website, download the Tips Sheets, and share them with your coworkers, family, and friends.

Protecting Your Digital Home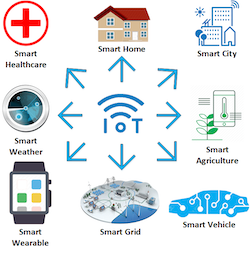 Every year, more of our home devices, including thermostats, outdoor lighting, door locks, coffee makers, and smoke alarms, are connected to the internet to create a "smart home." These advances in technology, commonly referred to as the internet of things (loT), are convenient and may improve efficiency and safety, however they also pose a new set of security risks.

Start with your wireless network. Secure your Wi-Fi network. Your home's wireless router is the primary entrance for cybercriminals to access all your connected devices. Secure Wi-Fi and digital devices by changing the default password and username. Check your internet provider's or router manufacturer's wireless security options. Your internet service provider and router manufacturer may provide information or resources to assist in securing your wireless network.


Keep tabs on your apps. Most connected appliances, toys, and devices are supported by a mobile application. Apps have the ability to gather your personal information while also putting your identity and privacy at risk. Be aware of downloading new, unfamiliar apps or giving default permissions. Check your app permissions and use the "rule of least privilege" to delete apps you no longer need or use.


Never click and tell. Disable location services that allow anyone to see where you are, and where you are not, at any given time. Limit what information you share on social media from home—from personal addresses to where you like to grab coffee. Keep Social Security numbers, account numbers, usernames and passwords private, as well as specific information about yourself, such as your full name, address, birthday, and vacation plans.